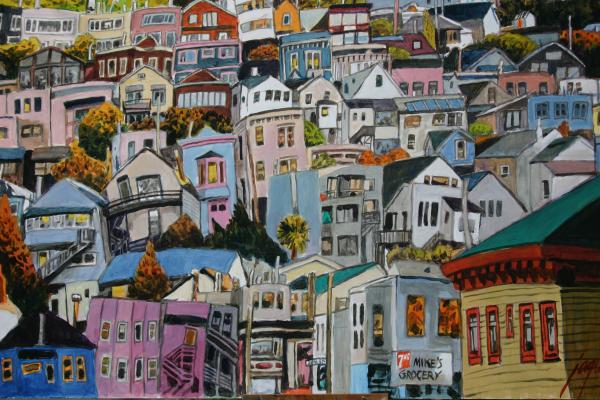 Known for its bounty of tasty restaurants and coffee shops, today's Mission District features a blend of hippies and hipsters, taquerias and luncheonettes, 99-cent stores and ceramic workshops. The neighborhood is a cultural mishmash worth exploring if you're into artisan coffee, boutique pastries, art galleries, dive bars, and lazing in the park.
STAY
While the Mission is short on hotels, plenty of beautiful and luxurious Airbnb accommodations can be found for under $200.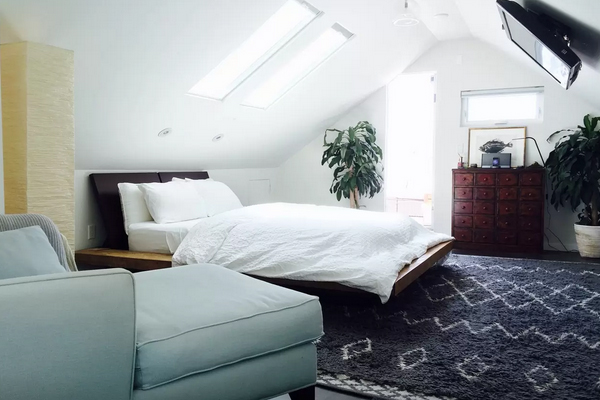 This penthouse on 19th Street with a roof deck, fireplace, and a bathroom, larger than most SF apartments, is the perfect place to rest your head for the weekend. Modern and tastefully decorated, this loft can compete with every hotel suite in the city.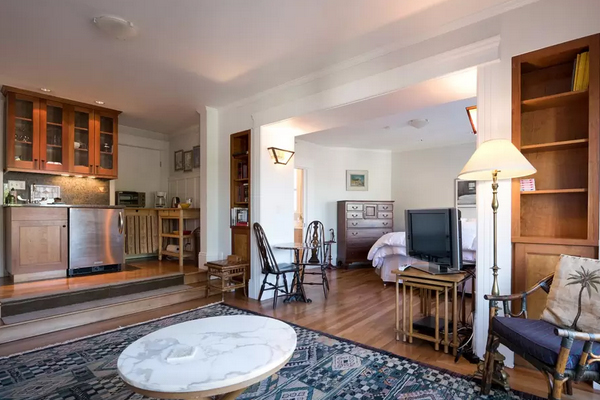 Only a hop, skip, and ajump away from Dolores Park, this cute and tranquil garden studio is the perfect home base for all your Mission excursions.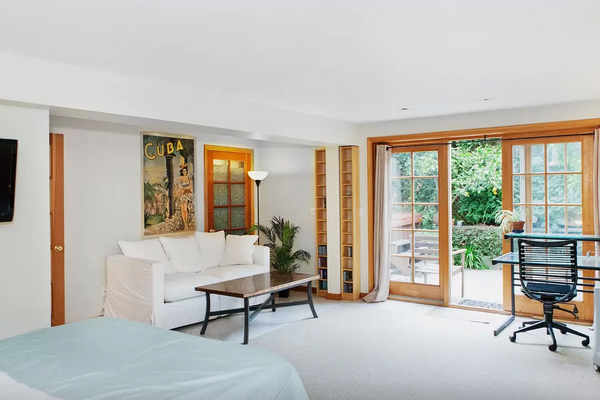 Who doesn't love relaxing in a hot tub? At this garden cottage, a white, serene interior and an outdoor spa experience await you.
EAT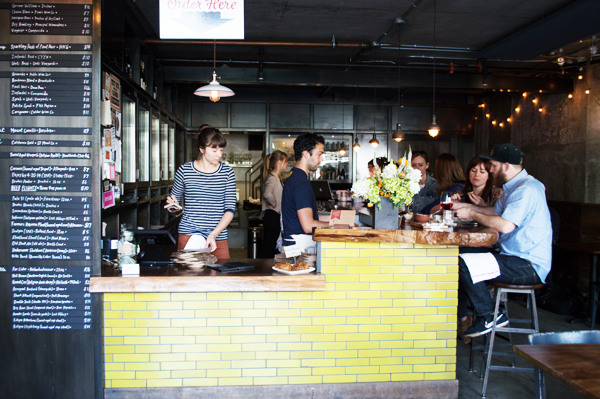 Start your staycation right with a delicious stroll around the neighborhood. Stop for a strong cup of joe at Four Barrel, or if you're a tea drinker head to Samovar Tea Lounge for some unique blends, and hit the streets. In need of a snack before dinner? You can't do better than an artisan cheese plates at Mission Cheese to put you in vacation mode. // Four Barrel: 375 Valencia St, fourbarrelcoffee.com; Samovar: 411 Valencia St, samovartea.com; Mission Cheese: 736 Valencia St, missioncheese.net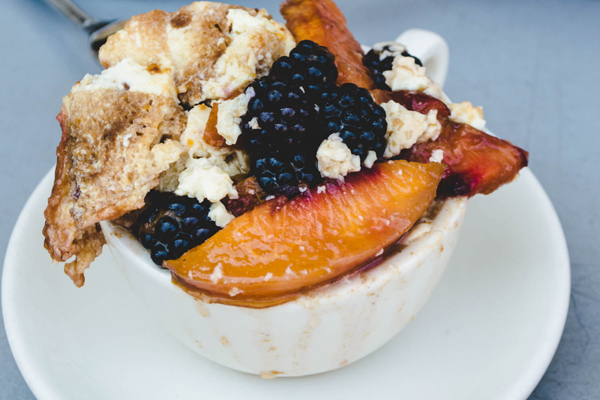 Breakfast time is for carbs. Tartine Bakery's famous morning bun and a latte savored at the outdoor tables are the perfect way to kickoff a day full of exploring. For a heartier brunch with Italian flair (think ricotta cannelloni or parmesan and scallion bread pudding with fried eggs) head to Beretta—you won't be disappointed. And if you're willing to wait in line, walk over to Craftsman & Wolves and order the Rebel Within, a savory muffin with a soft egg inside. Yum! // Tartine Bakery: 600 Guerrero St, tartinebakery.com; Beretta: 1199 Valencia St, berettasf.com; Craftsman & Wolves: 746 Valencia St,  craftsman-wolves.com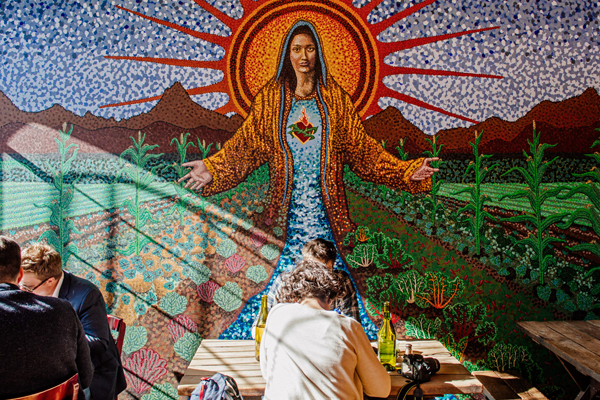 With so many options within walking distance, deciding where to eat dinner might be a bit daunting. For a spicy evening, try original South Indian cuisine at Udupi Palace. The authentic fare is served family-style on heaping plates that won't leave you hungry. Note, they accept cash only. Meanwhile, delicious tapas, fruity wine, and tacos you'll still be talking about the next morning, make a dinner at Loló a cheerful experience for all your senses. // Udupi Palace: 1007 Valencia St, udupipalaceca.com; Loló: 974 Valencia St,  lolosf.com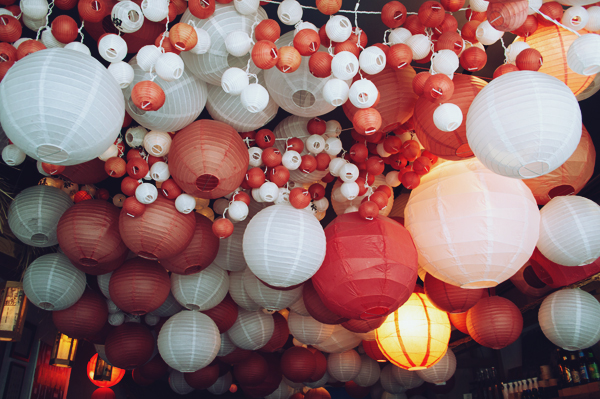 Need more options? If you're in the mood for Japanese cuisine, an underground vibe, ceilings full of lampions, and a hot bowl of ramen await at Ken Ken Ramen. Meanwhile, Gracias Madre dishes up unforgettable vegan Mexican food, accompanied by cool mariachi tunes. Or you can always stop in at Pizza Delfina, a San Francisco mainstay, for a slice (or whole pie) of their amazing salsiccia pizza. // Ken Ken Ramen: 3378 18th St, eatkenkenramen.com; Gracias Madre: 2211 Mission St, gracias-madre.com; Delfina: 3621 18th St, pizzeriadelfina.com/mission
To taste from one of the most innovative menus in the nation, get a table at Bar Tartine, where EVERYTHING is made in-house. The smoked potatoes are a must. // Bar Tartine: 561 Valencia St, bartartine.com
TO-DO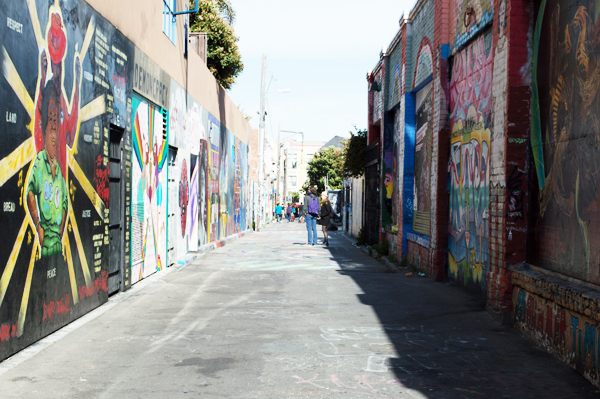 When you're ready to take a break from eating, peek into Clarion Alley to admire street art at its finest. Local and international artists have been creating playful and inspiring murals here since 1992. If you prefer white walls as a backdrop for your art, check out the many art exhibitions bound to be happening along Mission or Valencia Streets. If you see a crowd holding sparkling wine, don't be shy, join them.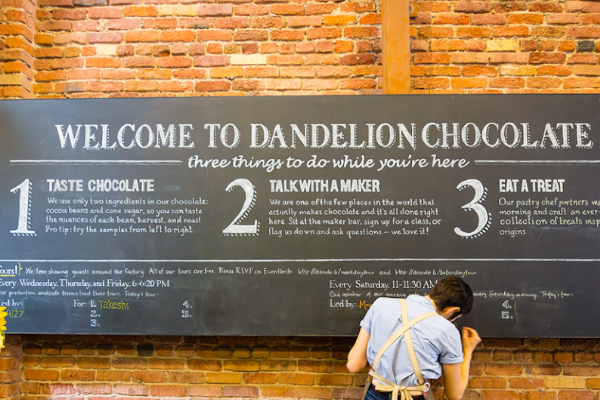 A tasty tour of the Dandelion Chocolate factory will show you how each of their mouth-watering morsels of chocolate are crafted to perfection. You won't be able to resist their fluffy, toasted, Papua New Guinea S'more, and you shouldn't try to. // 740 Valencia St, dandelionchocolate.com
Urban Putt is a modern spin on the traditional mini golf course featuring local icons such as the Painted Ladies, a Transamerica Pyramid windmill, and more. Arm yourself with a beer and snacks at the bar or carb load before the game with a full meal at the restaurant upstairs. // 1096 S Van Ness Ave, urbanputt.com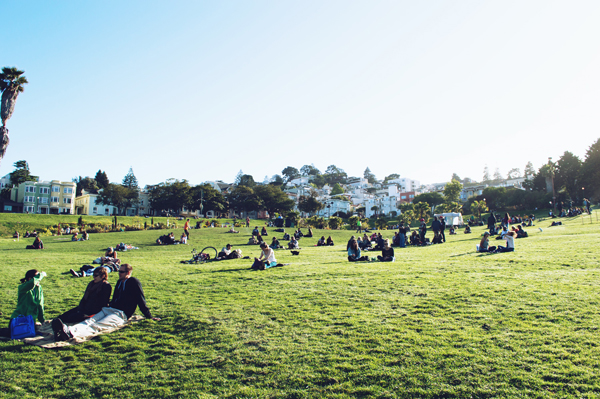 Oh, Dolores Park. A recent overhaul provided a much-needed facelift to San Francisco's busiest park, and while the crowds of girls with hula hoops and bros tossing a football might not be everyone's idea of a Sunday in the park, we still love to grab a scoop of salted caramel from Bi-Rite Ice Creamery, walk all the way up to the corner of Church & 20th, and enjoy one of most beautiful views of San Francisco around. // 3692 18th St, biritecreamery.com