Summer's bounty fresh from local farms and dairies makes the Marin Farmers' Market a can't-miss attraction this time of year.
"Marin County is unique in that 50 percent of our land is agricultural — quite rare for being so close to a major urban center," says Sarah Darcey-Martin, director of outreach for the Agricultural Institute of Marin, the organization that manages the market.
"Consequently, the Marin Farmers' Market boasts many farmers and ranchers literally from our own backyard. In fact, farms like Marin Roots Farms, Star Route Farms, Paradise Valley Farms and Allstar Organics (Sunday only) are within a 10-mile radius of the market."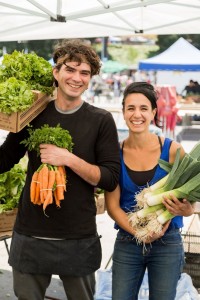 At the height of the season, nearly 200 local farmers, specialty food purveyors and artisans sell their produce and wares to 15,000 visitors at the Sunday market, making the Marin Farmers' Market the third largest in the state.
"People start early with a cup of coffee, chat with friends, let the kids ride ponies or get their faces painted, talk to the farmers, shop around and then end up getting lunch from one of the food purveyors like Barrio that feature local produce and meats sourced directly from the market," says Darcey-Martin. "They really make a day of it."
Along with the huge variety of fresh produce from nearby farms, home cooks come for the excellent cheeses from award-winning local cheese makers. Favorites include Tomales Farmstead Creamery's aged goat cheeses, Point Reyes Farmstead's milder and nuttier Bay Blue and Nicasio Valley's creamy fresh cheese Foggy Morning.
Compared with the Sunday market, Thursday's is smaller and more produce-focused. It also attracts restaurant chefs who come shopping for their weekend menus. Savvy market-goers enjoy eavesdropping on the pros as they discuss market offerings with farmers and each other.
"I love talking to the chefs directly about what they're cooking, and it's great fun when two of them start discussing how they're each going to use our greens," says Moira Kuhn of Marin Roots Farms. "That's when you'll see other shoppers circle around in hopes of picking up some tips for their own meals."
Market to get a permanent home
The Marin Market originally opened in 1983. Its commitment to ethical farm practices and community education makes it one of the most respected markets in the country.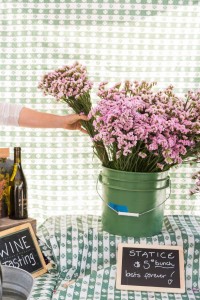 Held on Sunday and Thursday in overflow parking lots that are part of the Frank Lloyd Wright-designed Civic Center, the market has struggled over the years with problems common to other farmers' markets: Locations change with attendance, refrigeration is scarce, and utilities like electricity and running water are erratic.
Last June, voters in Marin County approved a ballot measure to create a permanent home for the Marin Farmers' Market. Expected to open in 2017, the project will include a new Market Hall & Plaza, where locally grown food including cheese and meats can be purchased several days a week. A large transparent canopy will provide cover for the farm vendors during market days and overflow parking for the Civic Center the rest of the week.
"The canopy will be made from a very thin glass-like material in order to provide protection from the elements for vendors and visitors while retaining the feeling of shopping outdoors," says Sarah Darcey-Martin.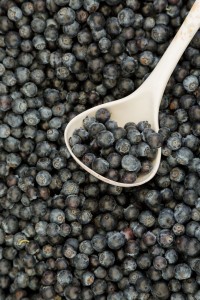 The eco-friendly design is part of the bicycle and pedestrian master plan for the site and honors Wright's original vision for the Civic Center grounds. It features recycled materials and a rainwater collection system as well as permanent restrooms. It will also include a railway station for the new Sonoma-Marin Area Rail Transit System, making it easier for North Bay residents, restaurant pros and farmers to share Mother Nature's bounty year-round.