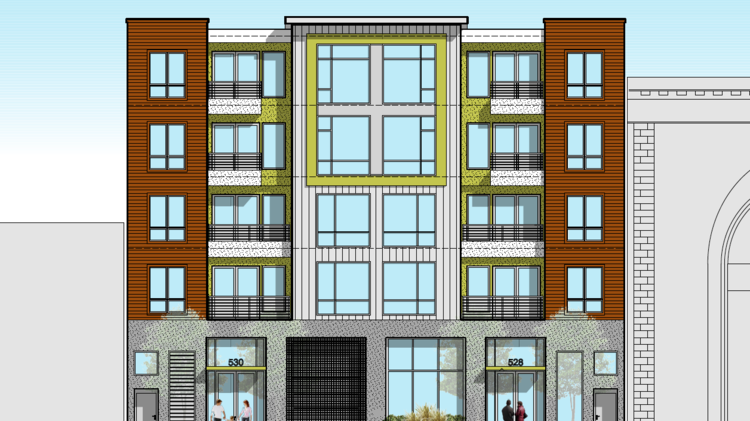 Construction has started on a 25-unit housing project in Oakland's Uptown neighborhood less than a block away from Uber's future headquarters, more evidence that a wave of new market-rate residential development is coming to the city.
Oakland-based CRC Development LLC broke ground on a former parking lot at 528 Thomas L. Berkley Way. The site is about three doors away from Uber's Uptown Station office at 19th Street and Broadway. It is also across the street from Forest City Enterprises Inc (NYSE: FCE)'s 665-unit project The Uptown.
The project's budget will be around $450,000 per unit, or $11.2 million total. Construction is slated to finish in early 2017. The project will be either rental or condo. Rents would be around $3.50 per square foot, or starting at $2,000 per month, said John Cappiello, principal of CRC Development.
The project will have 32 one-bedroom units, three two-bedroom units and one live-work unit on the ground floor.
Cappiello believes that Uber's arrival, which has drawn concern from some local residents wary of tech's impact in San Francisco, will have a positive effect on Oakland's economy. "Uber is going to positively affect the sales tax receipts of the city, it is going to make it easier for the city to attract new retail, it is going to increase the income of restaurants and make it possible for them to hire more people," said Cappiello.
CRC acquired the property in April 2014. The project was approved in August 2014. Kotas/Pantaleoni Architects is the designer of the project, and Proforma Construction is the general contractor.
Bank of Marin, which previously worked with CRC, is providing financing, which has been difficult to secure in Oakland due to high construction costs and rents that are far lower than San Francisco's.
"It would have been difficult to get this financing if not for that long-term relationship," said Cappiello.
CRC also has entitlements for another 70 residential units nearby and is seeking other sites.
"Uber is not only going to bring 2,000 to 3,000 of its jobs to the neighborhood, it is going to spur job creation throughout the area for all of the services needed to support that kind of influx of employment. The job for developers and the City of Oakland is to get 3,000 units built by 2017 so that there will be sufficient housing for the workers to keep them from competing for existing housing," said Cappiello.