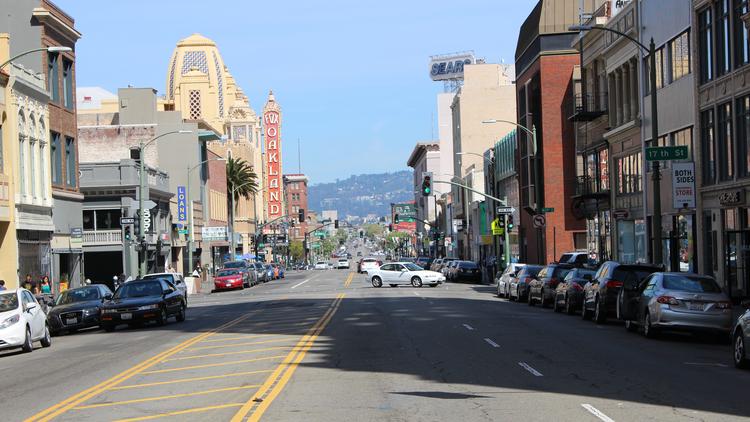 Three San Francisco companies moved to Oakland in the first quarter of 2015, contributing to a 20 percent jump in lease activity in the downtown, Uptown and Lake Merritt neighborhoods.
New office and retail leases, expansions and completed company relocations rose to more than 120,000 square feet in the three neighborhoods, up from 100,000 square feet in the first quarter of 2014, according to the Downtown Oakland Association and the Lake Merritt/Uptown Association, two business groups that promote local investment.
Real estate experts said that companies are increasingly attracted to cheaper rents compared to San Francisco, Oakland's thriving restaurant scene and its central location in the BART system. Businesses can cut their rent nearly in half by moving to the East Bay from San Francisco. Asking rents in Oakland's City Center and Lake Merritt central business districts were around $36 per square foot in the first quarter, compared to San Francisco's Class A asking rents of around $65 per square foot, according to DTZ.
"We're in the middle of an incredibly active market," said Michelle Lane, associate director at CBRE and president of the Downtown Oakland Association.
The three San Francisco relocations in the first quarter were:
The Worker's Compensation Insurance Rating Bureau of California moved its corporate headquarters to two floors and 41,000 square feet at 1221 Broadway. It previously signed a lease last August.
Technology company 99Designs, which operates an online logo marketplace, is moving its headquarters from San Francisco into a 14,161-square-foot space at 2201 Broadway.
Lennar Multifamily, a homebuilder focusing on the East Bay, signed a 3,410-square-foot lease at Oakland's 492 9th St. and is moving from San Francisco's Pine St. (Lennar Urban, which is working on megaprojects in Concord and Treasure Island, is still based in San Francisco's One Sansome Place. Lennar's national corporate headquarters is in Miami.)
Companies that are already established in Oakland are expanding. Pandora Media, the streaming music provider, expanded by 49,311 square feet at CIM Group's 2100 Franklin St. Emerson Collective, a start-up incubator lead by Laurene Powell Jobs, wife of the late Apple Inc. co-founder Steve Job, signed a 3,700-square-foot lease at 809 Broadway, and the big architecture firm Gensler opened its 24,000-square-foot Oakland office at 2101 Webster Street.
"What we're seeing is a lot of local expansions. It's not just an overflow from neighboring places like San Francisco," said Lane. Most companies already have workers living in the East Bay, which has lower housing and office rents compared to San Francisco, making an Oakland location even more attractive, she added.
Oakland's City Center central business district had a 9.6 percent vacancy rate at the end of the first quarter, and the Lake Merritt central business district had a vacancy rate of 8.1 percent. The areas are outpacing the East Bay's overall vacancy rate of 12.5 percent, and asking rents are about $6 per square foot higher on an annual basis, according to DTZ, making it the strongest market since the third quarter of 2008.
Large technology companies have reportedly looked at Lane Partners' Uptown Station, formerly a Sears department store. The building, which is undergoing renovations, signed up a 20,000-square-foot food market in its retail space last month. "We're definitely seeing tech companies look in the East Bay now," said Molly Herrick, a research analyst at DTZ.
Despite the improving market, there are no new office buildings being built in Oakland, a sharp contrast to the abundant cranes in San Francisco's South of Market and TransBay Terminal districts.
"It doesn't make any sense to build new buildings. You can't make a profit," said Bill Nork, managing director at commercial brokerage Newmark Cornish & Carey in Emeryville. Annual rents need to hit $54 to $60 per square foot to justify new construction, said Nork.
Proponents of Oakland said that the city isn't drawing tenants just because it's cheaper than San Francisco, but because its history and diversity give it a distinct character.
"There's an interesting dynamic and culture here that people want to be a part of," said Steve Snider, district manager of the Lake Merritt/Uptown and Downtown Oakland Associations. "They want to be closer to art and culture."